Boudica
The Great Celtic Queen of the Iceni People.
For years she was called Bunduica or Voadicia, then for a while she became Bonducca and later still Boudica or Boudicea; The early spellings of her name being a result of poor transcription from medieval manuscript and incorrect versions of Tacitus whose account of her story was not discovered until the 16th century. However the spelling of her name which means "Victory" became synonymous with terror and savagery. She led her people in violent revolt against the Roman Governor of the Province of Britannia. Her call to arms was a direct result of rape of her two young daughters by the Romans.
This act was a political one as Boudica's daughters were in direct line to her throne and posed a danger to Roman rule. If, thought the Roman officials, her daughters were deflowered, they would be less attractive to noblemen, thus reducing their power. It was customary for the executioner to publicly deflower young virgins (so the Gods would not be offended!) then either throw them from a cliff or strangle them. The Romans believed it to be more humiliating to merely rape the girls and have Boudica flogged. What a huge mistake that turned out to be!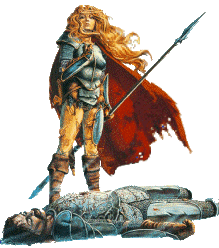 She amassed an army of 20,000 Celts who swept through the countryside utterly destroying three cities, including London. She massacred everyone who stood in her way, an estimated 70,000 people perished at her hand. Defeated by Suetonius (Who called her the Treacherous Lioness) a year later, it is thought she took her own life so as not to be taken by the Romans.
"Bodicea, Bodicea, Bodicea

Bodicea, Bodicea

Deep in the night, in a quiet place, I hear her voice, I see her face.

All in a dream. She was the Warrior Queen.

Brought to war, by the pain of her daughters,

She vowed revenge, and promised to slaughter,

The enemy there.

It was an honor affair.

Fight the foe, fight the foe,

Sang the Warrior Queen.

The Lion looks proud, in the shade of the tree,

But the Lioness hunts down the prey,

The victor is she.

Bodicea, Bodicea

Across the lands, her chariot sped,

Burning London, 20,000 dead.

Feared and serene, the Iceni Queen.

Though soon she would falter, Suetonious would reign.

Forgotten victories are all that remain.

Her voice they can hear, an echo from yesteryear.

Fight the foe, fight the foe,

Sang the Warrior Queen.

The Lion looks proud, in the shade of the tree,

But the Lioness hunts down the prey, The victor is she.

Bodicea, Bodicea, Bodicea, Bodicea

The Warrior Queen, The Warrior Queen, The Warrior Queen

Bodicea, Bodicea,

The Warrior Queen, Bodicea, Bodicea , The Warrior Queen

Deep in the night, she took her own life,

Blessed with a smile and a tear.

Though she had severed their dearest veins,

None would ever forget, Bodicea."

Words and music from of "Stone of Destiny" by Steve MacDonald