Hag
She had opened an immense hole in the soft ground, ­which she quickly digs up with her skeleton fingers, and bendi­ng h­er ribs and inclining her white smooth skull, she heaps togeth­er in th­e ab­yss old men and youths, women and children, cold, pale, and stiff, whose lids she silently closes.
"Ah, sighs the dreamer, who sadly and with heavy­ heart sees her accomplish her work, "accursed, accursed be thou, destroyer of beings, detestable and cruel Death, and mayest thou be dominated and desolated by the ever-renewed floods of mortal life!"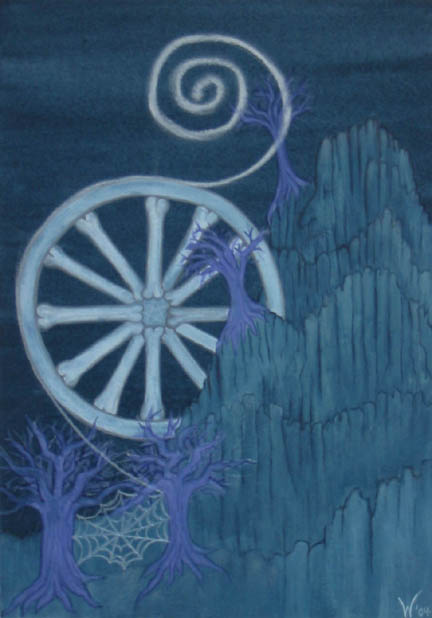 The grave-digger has arisen. She turns her face; she is now made of pink and char­ming flesh; her friendly brow is crowned with rosy corals. She bears in her arms fair naked children, who laugh to the sky, and she says softly to the dreamer, while gazing at him with eyes full of joy: 'I am she who accomplishes without cease and without end the transformation of all. Beneath my fingers the flowers that have become cinders bloom once more, and I am both She whom thou namest Death, and She whom thou namest Life!
Theodore De Banville (Translated by Stuart Merrill) Quoted in : 'The Soul is Here for its Own Joy' Ed. Robert Bly