Pele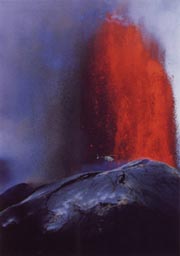 Hawaiian legends tell that eruptions were caused by Pele, the beautiful but tempestuous Goddess of Volcanoes, during her frequent moments of anger. Pele was both revered and feared; her immense power and many adventures figured prominently in ancient Hawaiian songs and chants. She could cause earthquakes by stamping her feet and volcanic eruptions and fiery devastation by digging with the Pa'oa, her magic stick. Her body is the lava and steam that comes from the volcano. She can change form, appearing as a white dog, old woman, or beautiful young woman. The stories about her are incredible. An oft-told legend describes the long and bitter quarrel between Pele and her older sister Namakaokahai that led to the creation of the chain of volcanoes that form the islands.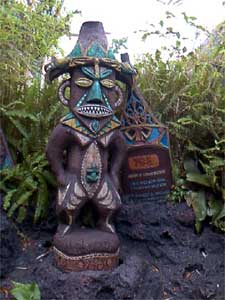 Described as "She-Who-Shapes-The-Sacred-Land" in ancient Hawaiian chants, the volcano goddess, Pele, was passionate, volatile, and capricious. In modern times, Pele has become the most visible of all the old gods and goddesses. Dwelling in the craters of the Big Island's Kilauea Volcano, she has been sending ribbons of fiery lava down the mountainside and adding new land around the southeastern shore almost continuously since 1983.
Pele was born of the female spirit Haumea, or Hina, who, like all other important Hawai'i gods and goddesses, descended from the supreme beings, Papa, or Earth Mother, and Wakea, Sky Father. Pele was among the first voyagers to sail to Hawai'i, pursued, legends say, by her angry older sister, Na-maka-o-kaha'i because Pele had seduced her husband. Pele landed first on Kaua'i, but every time she thrust her o'o (digging stick) into the earth to dig a pit for her home, Na-maka-o-kaha'i, goddess of water and the sea, would flood the pits. Pele moved down the chain of islands in order of their geological formation, eventually landing on the Big Island's Mauna Loa, which is considered the tallest mountain on earth when measured from its base at the bottom of the ocean.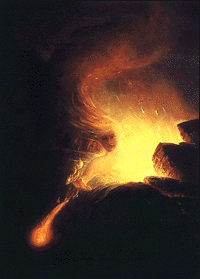 Even Na-maka-o-kaha'i could not send the ocean's waves high enough on Mauna Loa to drown Pele's fires, so Pele established her home on its slopes. Here, she welcomed her brothers. A cliff on nearby Kilauea Mountain is sacred to her eldest brother, Ka-moho-ali'i, king of the sharks and the keeper of the gourd that held the water of life, which gave him the power to revive the dead. Out of respect for this brother, to this day, Pele never allows clouds of volcanic steam to touch his cliff.
Legends about Pele, her rivals and her lovers abound. Most of the lovers she took were not lucky enough to escape with their lives when she hurled molten lava at them, trapping them in odd misshapen pillars of rock that dot volcanic fields to this day.
Pele's greatest rival was Poliahu, goddess of snow-capped mountains, and a beauty who, like Pele, seduced handsome mortal chiefs. Pele's jealousy flamed after she had a fling with a fickle young Maui chief named 'Ai-wohi-ku-pua, as he was traveling to the Big Island to court a mortal chiefess, Laie. Paddling along the Hana Coast, 'Ai-wohi-ku-pua saw Pele in human form as a beauty named Hina-i-ka-malama, riding the surf. He paused for a brief affair. Then he went on to the Big Island, where Poliahu seduced him. He convinced his personal goddess to release him from his promise to his first love, and went back to Kaua'i with the snow goddess. Pele (as Hina-i-ka-malama) chased after them, eventually winning back the fickle chief, but Poliahu was so vindictive, she blasted the lovers with cold and heat until they separated, and 'Ai-wohi-ku-pua was left with no lover at all.
To this day, tales of Pele's power and peculiarities continue. Whispered encounters with Pele include those of drivers who pick up an old woman dressed all in white accompanied by a little dog on roads in Kilauea National Park, only to look in the mirror to find the back seat empty. Pele's face has mysteriously appeared in photographs of fiery eruptions, and most people who live in the islands-whether Christian, Buddhist, Shinto, or other-speak respectfully of the ancient goddess. After all, she has destroyed more than 100 structures on the Big Island since 1983, and perhaps even more awesome than that, she has added more than 70 acres of land to the island's southeastern coastline.